Calling all Volunteers!
The 10th Annual Kacie's Ride is happening on September 12th.  We traditionally have volunteers holding directional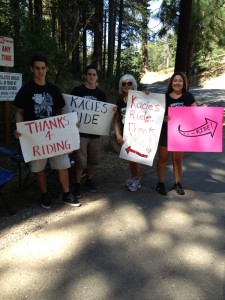 and encouragement signs at 6 locations along the motorcycle route through Hope Valley.  It is a lot of fun and always an exhilarating volunteer opportunity.  Great for families or groups to do together!
You'll meet downtown Placerville near the Bell Tower at 9:00 am to get your signs and directions to your location. Then you drive to your spot and set up in a safe location off the road to direct the motorcycle riders. Cheering and hooting can commence!
If you are interested, contact Julie at JulieS@thecenternow.org or (530) 626-1450. Volunteers may purchase a Kacie's Ride for Hope t-shirt at a discounted price.